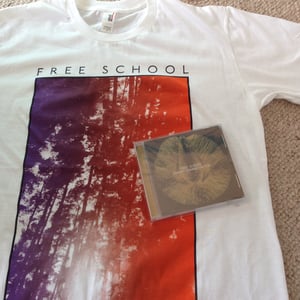 £

15.00 - On Sale
For just £15 you can grab a new t-shirt and our debut album 'Tender Administration' on CD!!
T-shirt:
Lovingly screenprinted by Do Make Say Ink onto soft cotton Anvil T-shirts.Photo on t-shirt by Richard Lambert.
www.domakesayink.com
www.richardpjlambert.com
Album:
Released in 2012 on Tirk, Tender Administration received a 4/5 review from Mixmag who described the album's "truly magical moments".
Data Transmission gave the album 8/10, stating "Keep an eye out for this lot. They have managed to create a debut album that will appeal to electronic music lovers in general, whether they have been reared on electronica or on the dancefloor, and that is no mean feat."
"Stadium Style, awesome" – Jaques Renault
"A beautiful calming lullaby of a record. The sound of nu-shoegaze outta nu-Birmingham" – The Village Voice
"Insidiously groovy, shiny pop-tinged approach" - The Stool Pigeon
Read the reviews here:
Mixmag: http://goo.gl/IKNVN
Data Transmission: http://goo.gl/XV1yR